For your ears only……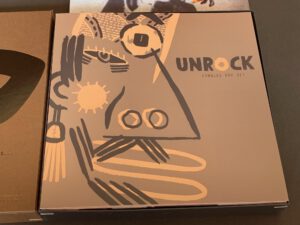 The Well Known Strangers 14×7" Singles Box Set finally documents what we have been doing during the last few years…..
It features numerous excellent and adventurous contributions from Sir Richard Bishop, the weird lo-fi interpretations of Ennio Morricone songs by Alvarius B., Middle-East-All-Stars Karkhana killing it by playing the tunesian traditional Sidi Mansour which became a smash for German popsters Boney M under the name of  Ma Baker decades ago. Sam Shalabi, leader of not only his fine orchestra Land Of Kush, came up with a very fine tuned hommage to Dwars Of East Agouza's favorite Kebab shop in Cairo. You get Ava Mendoza's (Who has been voted currently as one of the best contemporary jazz guitar players around the world) outstanding solo-version of her classic Feral Twin….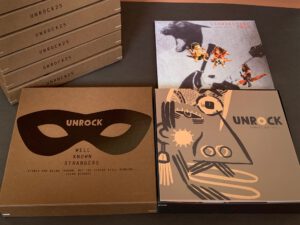 Beiruts long running free-everything outfit A-Trio (Sharif Sehnaoui, Mazen Kerbaj, Raed Yassin) messing not only around with the Grand Seigneurs from AMM, (Eddie Prevost & John Tilbury) but with Alan Bishop. The exceptional and exploding talents Of Sunn Trios young mastermind Joel Robinson from Arizona, an exclusive by Sunn Trio as an entity, which is from our point of view one of the most exciting newer bands around the planet. Eyvind Kang, a long time contributor with Sun City Girls, John Zorn and so many others, blasting the limits with his viola…..Tashi Dorji, an extraodinary experimental guitarist from Bhutan captured in Unrock's living room, the Ivory Tower….and shiny little pearls from Dredd Foole collaborateur Ed Yazijian. W.David Oliphant, the pre-industrial legend from Arizona teamed up again with SRB, Cairo's Dwarfs Of East Agouza are running free around the Camel Toe, Chris Corsano and Bill Orcutt unrock the house down and last but not least Clandestine Trio (Chris Corsano, Richard Bishop & Alan Bishop) flew in from Brussels, Portland & Cairo in November 2017 to play their first ever show to celebrate Unrock's 25th anniversary as an entity……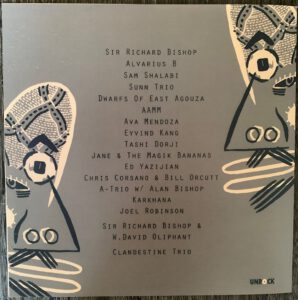 With its 128 copies available, it will be a rare collectors item soon.