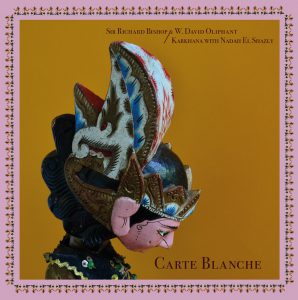 If you are into, read what Toneshift wrote about Carte Blanche…
Aesthetic cooking in a spiritual saucepan, with multicultural raw materials. If this doesn't make any sense, keep reading. The Saraswati series of the German label Unrock, is hosting one-of-a-kind music outfits; releasing curation of the utmost care. Carte Blanche is such a fine example, where a group of fine western and middle-eastern musicians deliver the means into a voyage (mark this word).
Carte Blanche is actually a split album, with Side A containing duo recordings of two fine American experimental guitarists, namely Sir Richard Bishop (Sun City Girls) and W. David Oliphant (Maybe Mental, Life Garden), while Side B contains a collaboration of the middle-eastern free jazz, psych, avant-garde ensemble Karkhana with the Egyptian vocalist and composer Nadah El Shazly. Karkhana is a multinational treasure-chest-gathering of fine experimental/improv musicians, namely, Egyptian guitarist Sam Shalabi (Balai Mécanique, Molasses, Orchestra Omar, Po, Ratchet Orchestra, Shalabi Effect), Lebanese drummer and guitarist Sharif Sehnaoui (Franz Hautzinger's Oriental Space, Orchestra Omar), American percussionist Michael Zerang (Easel, Eugene Chadbourne Baptist Church Quartet, Galactic Unity Ensemble, The Vandermark Quartet), Lebanese trumpetist and saxophonist Mazen Kerbaj ("A" Trio, Ariha Brass Quartet, Bao), Egyptian experimentalist Maurice Louca (Alif, The Dwarfs Of East Agouza), Tony Elieh (Orchestra Omar, Scrambled Eggs) and Turkish guitarist Umut Çağlar (Dead Country, Etnik Orchestra, Konstrukt, Orchestra Omar)!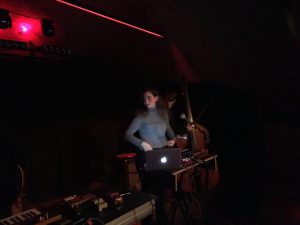 Nadah El Shazly
Introductory comment: "voyage is a long journey involving travel by sea or in space. In this case, it involves sound…"! Even though each side is distinctive in it's own colors and very related to artists' approach to sound, both of them are – unintentionally – merging into a single work, combined with amazing balance and continuance; a curatorial work amazingly executed!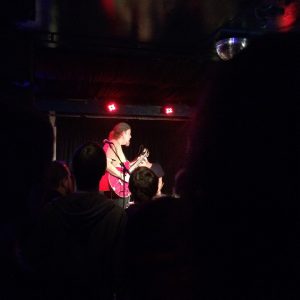 Sir Richard Bishop
Carte Blanche, a voyage and a totally sincere handshake, a hug if you wish, of American and middle-eastern contemporary experimental music. An Orient Express of musical aesthetics, beginning with the serene, folkish, ethereal, haunting, rainy, droneish, guitar-driven instrumental chants of Bishop and Oliphant and concluding with Karkhana's frenzied electric amalgam of Asian-themed, psychedelic free jazz; a structured ritual, saturated ideally with the siren-like voice of El Shazly. While a transcontinental long-distance passenger train service was a showcase of luxury and comfort, travelling from one continent to another, from west to east, this album is a showcase of musical polymorphy, imaginative avant-garde composing, travelling from one musical approach to another, unified in the end. A dark, yet somehow bright sonic venture where images and thoughts are lurking within!
The 140g vinyl is housed into an extra heavy deluxe cover with a printed cardboard insert, beautifully designed. My ears are so delighted, full of every detail of this creation! I cannot help myself from feeling that emotion of venturing through sound and musical cultures, a cinematic, spiritual and heartful experience, the epitome of excellence in a contemporary, orgasmic, classic!