TEMPORARY OFFER !
*** The next installment in Unrock's ongoing Saraswati Series will be the most rebellious and wildest to date. Again an intercontinental output. A dangerous, electric brew filled with exotic aroma from Cairo's sound guerilla, Alan Bishop (Sun City Girls), Maurice Louca (Karkhana)  & Sam Shalabi (Land of Kush, Karkhana). The always changing face of Dwarfs Of East Agouza, shows them  in a feverish mode and adrenalin rush. Massive eruptions fight genuine flow. Sultans of Unrock.
Chris Corsano & Bill Orcutt manage to sound like a tonal cyclone consisting of 156 musicians, blowing heads and minds away.  Out of the blue they suddenly manage to change mode and develop mild, calm and elegant, fragile melodies. Interplay between early Baker and Clapton in Cream's looser frequencies  seems sometimes just a stone's throw away. Electric Smog is meant to be a twin release to Sir Richard Bishop & David Oliphant / Karkhana with Nadah El Shazly – Carte Blanche LP.  140 g black vinyl, one time pressing. DeLuxe edition originally included an exclusive split 7″ (limited to 150 copies) : Corsano & Orcutt / Dwarfs Of East Agouza – Cyclone 4 / Camel Toe 7″ WHICH IS NOT AVAILABLE ANYMORE !

LP
Side A : Dwarfs Of East Agouza  
Abu Nour                                                                                                                         23.36 min
Recorded live at ZigZag Cairo, December 27th, 2017 by Adham Zidan.Mixed by Adham Zidan at ThePirateShip .
Side B : Chris Corsano & Bill Orcutt
Cyclone 1                                                                                                                          07.18 min
Cyclone 2                                                                                                                         04.34 min
Cyclone 3                                                                                                                         07.29 min
Recorded January 31 & February 1, 2018 at Cyclone
Thanks to Neil Hutchinson
7″
Side A : Chris Corsano & Bill Orcutt – Cyclone 4
Side B : Dwarfs Of East Agouza – Camel Toe
All tracks mastered by Peter Koerfer at Ivory Tower.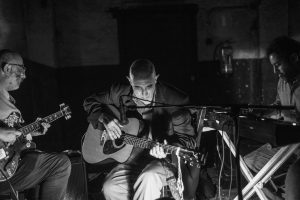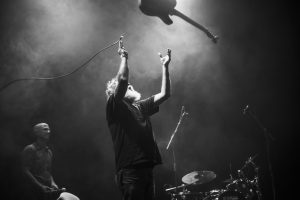 Photos : Hans van der Linden