A Memory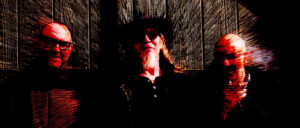 TEMPORARY OFFER !
UnrockLP019-7
***W.David Oliphant, well known for his visionary work with industrial outfit Maybe Mental, dark ambient ritual group Life Garden, his huge solo-output and various collaborations with the Brothers Bishop, Michael Pistrui (Fat Gray Cat) and Alan Bishop (Sun City Girls, Dwarfs Of East Agouza, Invisible Hands, Clandestine Quartet) came together in Arizona in February 2020 to record an album in two days. Nobody could guess that it would land this far beyond expectations. Prepared computer (W.David Oliphant) and acoustic guitar (Alan Bishop) are the only instruments used, together with the charismatic voice of Alan Bishop, and featuring the vocal talents of Michael Pistrui.
The result ia´s a one of a kind album, impossible to catagorize, Warlock Cabaret, absurd and macabre, directly from the darkrooms of the mind. Morbid flowers, Vaudevillian Cinema, psychedelic wastelands, the cross between Sun City Girls and Einstuerzende Neubauten. While the lyrics immediately burn images into the listeners brain , the electronic/acoustic sound varies between western/non-western Industrial Folk. The Blixa Bargeld-ish  I Civilized You, the title giving Dead Gardens and the fake-eastern influenced A Memory through which the spirit of the Sun City Girls seems to float, are centerpieces of the album. Pure magic witchcraft, never Rock. A soundtrack for the darkest Film Noir you've never watched.
Vines Grow Between My Eyes will be released in a deluxe gatefold cover,  with all lyrics printed on the inside. Limited edition one time pressing in 140 g black vinyl. The deluxe/early-bird version of the album comes with a 3 track extra 7″ single in a heavy cardbord tip-on cover and ist limited to 150 copies.
LP
Side A
Uranium Eyes
I Civilized You
The Boy King
Dead Gardens
A Memory
Side B
The Town
Working Chihuahua
Empty Trees of Anger
Head
Unmarked Grave
War's Playing
The Killer
Side A  – 1. Untouchable
Side B – 1. Still There – 2. Not Being Blind
CREDITS:
Recorded February 17 & 18, 2020 in Bisbee Arizona by W. David Oliphant
All Tracks by Happy Dead Man
David Oliphant – Prepared Computer
Alan Bishop – Vocals/Acoustic Guitar
Michael Pistrui – Vocals