Preorder – Ships when in stock…
Well guys, I have something very special on hand very soon….. extraordinary and far out….
But let's start telling the story from the early beginning. Back in 2003 during the annual Angelica Festival in Bologna and  the Reggio Emilia, Eyvind Kang conducted a 16 piece ensemble,  amongst them singer Mike Patton , which resulted in the release of an album called Virginal Coordinates.
12 years later, in May 2015 for the 25th anniversary of the same Festival,  Kang appeared to arrange and  conduct again a string ensemble, this time fronted by a solo-singer, well known to the regular visitors of Unrock. Alan Bishop. Amongst unique compositions from Eyvind Kang the orchestra played "CCC" (Sun City Girls) and "Maybe I'll Kiss And Die A Fool" (Sun City Girls), arranged by Eyvind and sung by Alan. I was  in Modena that night and had an unforgettable experience and was hoping this great musical spectacle  would lead into a release.
It will now be out on vinyl by the end of April on 180g blue translucent vinyl LP (10 tracks) by Angelica itself and we can offer you copies. The set (limited edition of 500 copies) contains a digital download of the entire album (with 2 additional tracks) in mp3/wav/aiff/flac with a CD booklet (with photos, lyrics, …. ).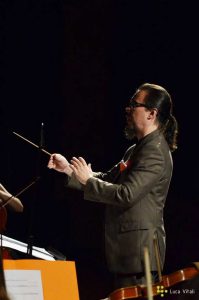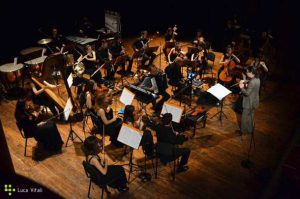 All music composed by Eyvind Kang,
except CCC by Alan Bishop (Sun City Girls)
and Maybe I'll Kiss and Die a Fool by Richard Bishop (Sun City Girls),
arranged by Eyvind Kang
Divertimento contains a version of For Twelve Strings-Rising by James Tenney
Lyrics by Eyvind Kang, except CCC by Alan Bishop
project commissioned by AngelicA
a coproduction by AngelicA, Fondazione Teatro Comunale di Modena – Festival l'Altro Suono, Fondazione Teatro Rossini – Lugo Opera Festival;
with the support of Regione Emilia Romagna – Assessorato alla Cultura
Eyvind Kang
conductor, chironomy, viola solo [1, 9]
Alan Bishop
voice, field recordings
Marco Dalpane
accordion, moog synthesizer
MG_INC Orchestra:
Ferenc Vojnic Hajduk – 1st violin
Eliana de Candia – 1st violin
Giulia Camardella –  1st violin
Eleonora Mugnaini – 2nd violin
Mara Conti – 2nd violin
Inesa Baltatescu – 2nd violin
Fabiana Bruni – viola
Federica Cardinali –  viola
Enrico Osti – viola, Hardingfele
Laura Benvenga – cello
Serena Patanella – cello
Pierluca Cilli – double bass
Andrea Grossi – double bass
Cinzia Zucchi – flute and piccolo
Francesco Tocci – oboe, english horn
Edoardo Casali – bassoon
Valerio Passiatore – clarinet, bass clarinet
Serena De Carli –  horn
Giacomo Salvadori – percussion
Federico Baldi – percussion
Guido Ponzini – viola da gamba
Myriam Farina – harp, conductor [9]